Visit by Appointment ONLY!
Phone: 540-450-4137
Email: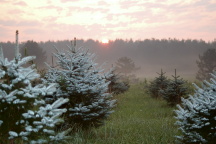 Colorado Blue Spruce in field
Conifers for small lots
Many of these evergreens get big in their native range but in the landscape here they should be manageable. New varieties arrive in the spring and will be posted as soon as they settle in to their new happy life at Loudoun Nursery.
| Plant Variety | Common Name |
| --- | --- |
| Picea meyeri | Meyer Spruce |
| Picea omorika | Serbian Spruce |
| Picea pungens Glauca Misty Blue | 'Misty Blue' Spruce |
| Piea pungens 'Fat Albert' | 'Fat Albert' Spruce |
| Picea pungens 'Hoopsi' | 'Hoopsi' Spruce |
| Pinus koreanius | Korean Pine |
| Pinus leucodermis 'Bosnia Pine' | Bosnian Pine (slow growing) |
| Tsuga Canadensis | Canadian Hemlock |