Open Thanksgiving Friday + weekend and following weekends; 9-4:30
Other times please call ahead
Phone: (540) 338-4635
Email: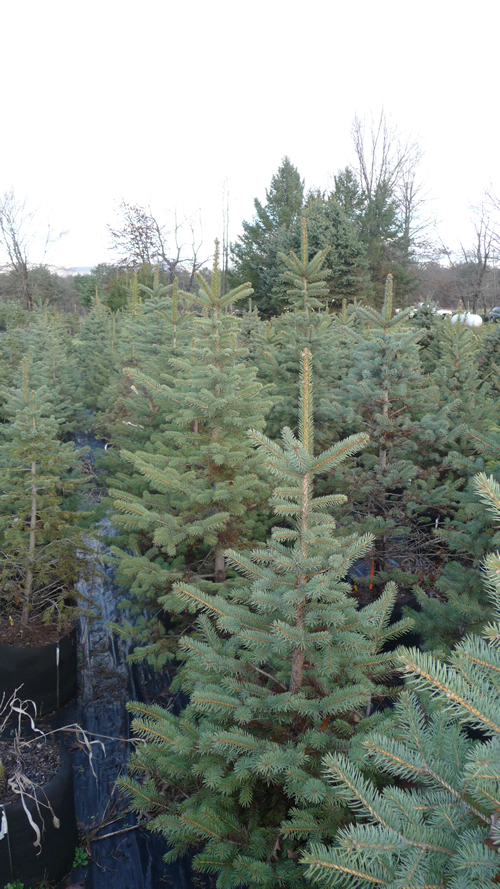 Container tree nursery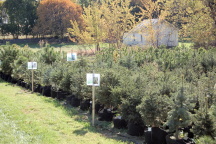 Container Conifer Bed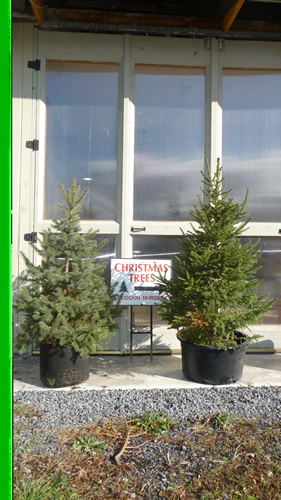 5-6' Blue & Norway Spruce
Covid Measures
Please wear a mask when around the barn/tree baling/payment area.
In the field practice "social distancing
Now closed for cut Christmas Trees
Open for living container trees by appointment
Enjoy the family fun of selecting a Christmas tree - but this time replant after the holidays.
Loudoun Nursery specializes in container grown evergreen varieties suitable for the holidays. We have Blue, Norway and Serbian Spruce trees growing in 10, 15 and 25 gal Smart Pots with handles for your selection. These trees stand about 4-6'+ in height (including the container). They are light weight and easily carried by 2 people into the house. The flat bottom sits solidly on the floor or in a large container. The trees fit into larger SUV or truck-type vehicles for easy transport to your home. After Christmas they can be planted or simply placed outdoors in a protected location (for a limited time) until you are ready to plant. Any public park would be happy to receive your tree after Christmas and probably give you a tax deduction.
Trees grown in Smart Pots develop a fibrous root system that greatly improves survival after Christmas. We recommend that the trees be held indoors for only about two weeks, watered as needed and planted after Christmas. If it is not possible to plant immediately the trees will probably be fine in a protected outdoor location and will need to be watered periodically until planting.
Trees are priced at $100 to 150.00.
When you visit the farm we will advise your selection based on proposed site, soil conditions, etc.