Open Thanksgiving Friday + weekend and following weekends; 9-4:30
Other times please call ahead
Phone: (540) 338-4635
Email: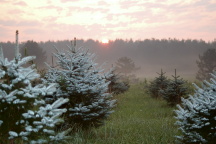 Blue Spruce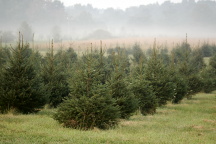 Norway Spruce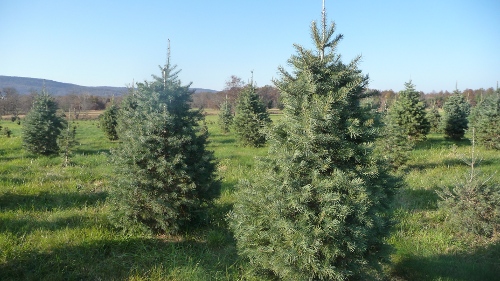 Concolor Fir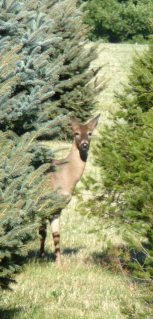 She thinks she's a reindeer...
Covid Measures
Please wear a mask when around the barn/tree baling/payment area.
In the field practice "social distancing.
Now closed for cut Christmas Trees
Open for living container trees by appointment
Be careful of the newly planted trees - 5,000 in the last 3 years and more to come annually.
Blue Spruce/Norway Spruce
For the 2020 Christmas Season we have a limited selection of Colorado Blue Spruce and a good selection Norway Spruce up to 8-15'+. Norway Spruce have good needle retention when cut closer to Christmas. There are a limited number of older trees that are much taller. All trees for field cutting cost $75.00 up to 10 feet and $100.00 for trees taller than 10'. We are unable to bale the large fat trees so if you want a big tree bring a crew to handle it.
Canaan/Concolor/Korean/Arizona Corkbark Fir
Canaan Fir and Korean Fir look like Fraser Fir and are able to grow in our soils and climate. The needles are relatively short and not prickly. Concolor, or White Fir, have longer bluish needles and express a citrus fragrance when cut. We have limited quantities of each up to approximately 8-10+ feet and a few larger. Arizona Corkbark fir have a bluish/green color and are soft.
Tree Harvest
Cutting trees here at Loudoun Nursery is easy. When you arrive we will loan you a saw and point you to the field. Bring your trophy tree back to the barn where, except for the monster trees, we will bale the tree with netting.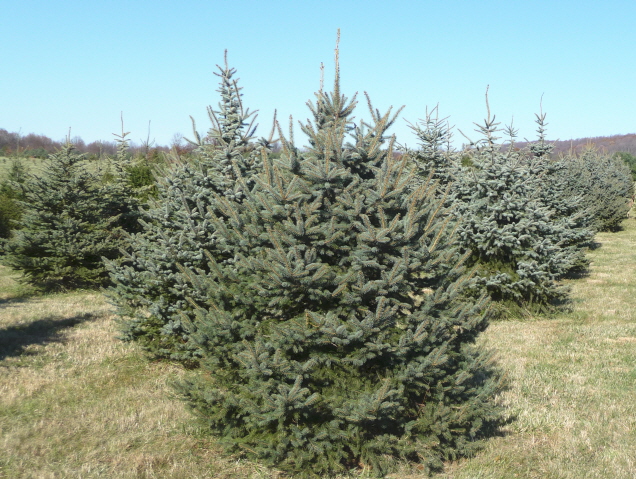 These are Colorado Blue Spruce in the field prior to the Thanksgiving weekend