Visit by Appointment ONLY!
Phone: 540-450-4137
Email: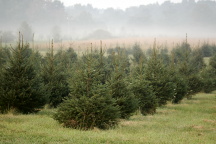 Norway Spruce in field
Conifers for large spaces
These conifers are great for screening or as individual specimens. Some are under used and not well known in our area. All require sufficient space to show their beauty.
Check here frequently - we are scouting for new varieties to introduce and to learn their characteristics. New varieties will soon be arriving from Oregon for us to plant out for your future.
| Plant Variety | Common Name |
| --- | --- |
| Abies concolor | Concolor Fir |
| Abies homolepis 'Nikko Fir' | Nikko Fir |
| Abies koreana | Korean Fir |
| Abies lasiocarpa | Arizona Corkbark Fir |
| Picea abies | Norway Spruce |
| Picea Englemann | Engleman Spruce |
| Pinus nigra | Austrian Pine (fast screening) |
| Pinus peuce 'Macedonian Pine' | Macedonian Pine |
| Pinus thunbergiana | Black Pine |
| Pinus strobus | White Pine |
| Thuga 'Green Giant' | Green Giant Arbovitae |